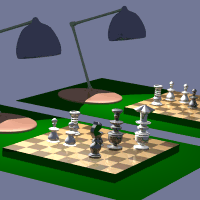 The public release of XCModel was updated on July 2007. Features of XCModel over version 3.0:
Many, but not all, bugs fixed
Download development version (only of some XCModel libraries)
XCCurv presents new rational interpolation methods and new options
XCSurf presents new surface modeling tools (for example hierarchical surfaces) and new options as export surfaces in OBJ Alias Wavefront (now Autodesk) format
XCRayt presents a Frame Editor to manage interactively short 3D movies
descriptor library presents new functions to procedurally manage and save short 3D movies
trim library presents new functions to save the internal trimmed NURBS tessellation in OBJ format
XMOVIE has been renamed XCView and is able to export 3D movies as animated GIF.
XCModel is designed to run on any workstation or PC system running a Unix Operating System with Xwindow System. The current XCModel version was successfully compiled and tested using a Linux operating system and gcc version 3.3.5 compiler.
This version of XCModel (the whole package) requires at least a 24 bit and 1024x768 resolution graphics adapter and display; the XServer has to be setted with:
depth to 24;
resolution at least 1024x768;
backing store to YES.
XCCurv, XCSurf, XCBool and XCRayt within XCView are the four packages composing XCModel; they can be downloaded, installed and used separately and need the same requirements described above.