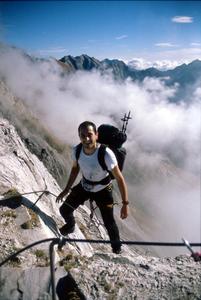 Stefano Francaviglia

Dipartimento di Matematica of the University of Bologna
P.zza Porta S. Donato 5, 40126 Bologna (Italy)
Office: F3, Tel: +39 051 2094476, Fax (Department): +39 051 2094490
e-mail: stefano.francaviglia(at)unibo.it
---
DIDATTICA: Materiale, Orari, Info et Cetera
---
IL PROBLEMA DI MATEMATICA
---
Family name: Francaviglia
First name: Stefano
Date of birth: August 19, 1973
Place of birth: Pistoia, Italy
Citizenship: Italian
Languages known: Catalan, English, French, Italian, Portuguese, Spanish


Research field: Geometry and Topology of low-dimensional manifolds, Geometric Group Theory, Teichmuller Theory, Dynamical Systems


Positions and titles


Since April 2019. Professore Ordinario (Full Professor) at the Departement of Mathematics of the AMS , which is the University of Bologna.


September 2014 - March 2019. Professore Associato (Associate Professor) at the Departement of Mathematics of the AMS , which is the University of Bologna.


November 2008 - September 2014. Ricercatore (Permanent Research Fellow) at the Departement of Mathematics of the AMS , which is the University of Bologna.


February 2007 - October 2008. Assegnista (Temporary Research Fellow) at the D.M.A. of the Univ. of Pisa.


February 2005 - January 2007. Marie Courie Intra European Fellowship at the Departament de Matemàtiques de la UAB.


July 2003 - February 2005. INdAM research fellow at the DMA (Dept. of Appl. Math.) of the University of Pisa.


May 21, 2004. PhD in Mathematics at the Scuola Normale Superiore of Pisa,
Thesis "Hyperbolicity equations for cusped 3-manifolds and volume-rigidity of representations" approved cum laude,
advisor: Prof. C. Petronio (Dept. of Appl. Math. Univ. of Pisa)


January-June, 2003. Visiting student at the C.R.M. of Barcelona.


March-June, 2002. Visiting student at the University of Barcelona.


1998-2001. PhD student at the Scuola Normale Superiore of Pisa.


1993-1998. Degree in Mathematics at the University of Pisa,
Thesis "Foliations on 3-manifolds" approved cum laude,
advisor: Prof. R. Benedetti (Dept. of Math. Univ. of Pisa)
---



























---
Relations between the complex structure of Hurwitz spaces, the cut-and-paste topology, and the complex structure induced by a Branched Projective Structure. (.pdf file)
Note from a discussion with Gabriele Mondello on my work with Gabriel Calsamiglia and Bertdand Deroin "BPS with quasi-Fuchsian holonomy".


Curvatura negativa su spazi metrici. (.pdf file)
Talk given in the series "Topics in Math 2011" (dept. math. Unibo).


---
Some of my passport pictures:
---